Academic programming
Kinder Haus Montessori offers a welcoming, stimulating environment that cultivates your child's independence, self-esteem and social & academic potential, with an individualized curriculum that will lay the foundation for a lifelong love of learning.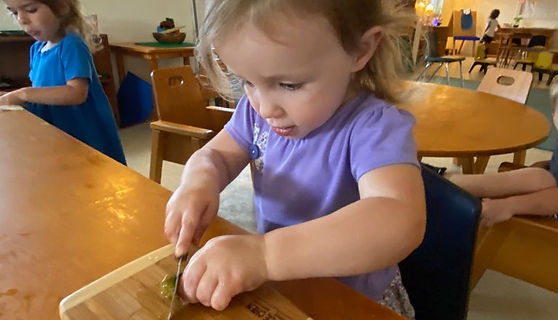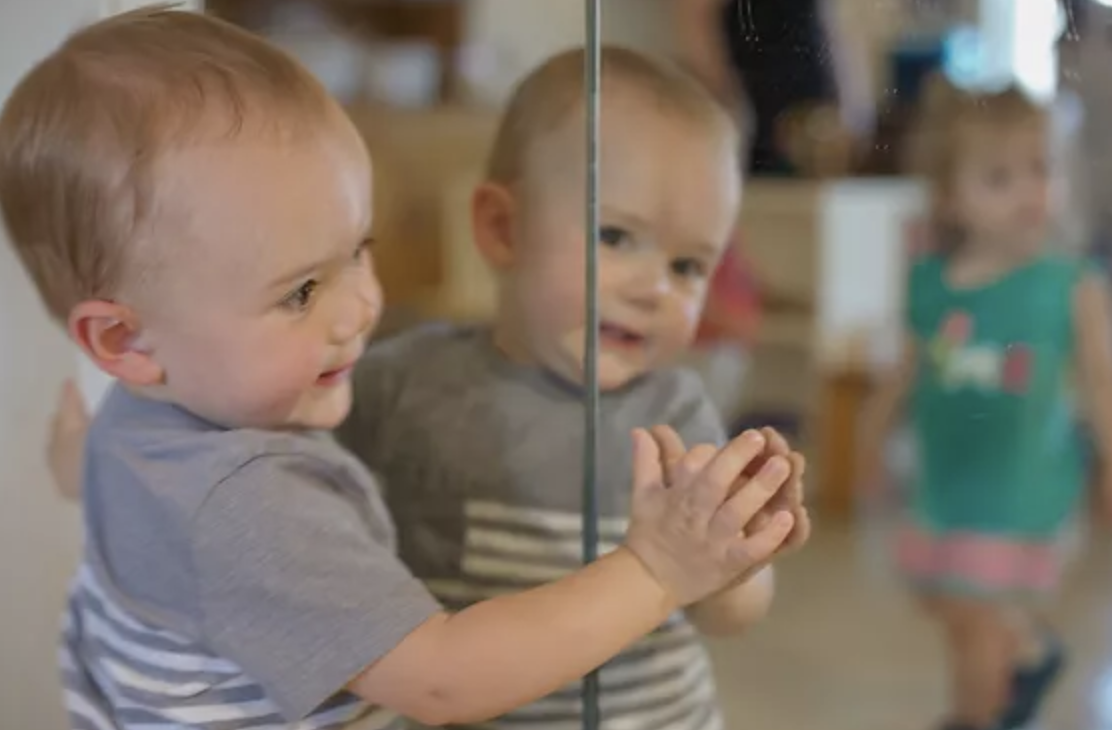 Toddler Class (Ages 1-2 years)
Upon entering the Toddler classroom you can feel the love and warmth that the toddlers experience on a daily basis. A neutral color scheme promotes calmness throughout the class. Everything is designed with the 1 – 2-year-old child in mind, including low-rise shelves that provide easy accessibility for choosing "work." Our room meets the children's needs for tranquility, beauty, security, order, and learning. In this "Prepared Environment," the child can easily focus on the shelves that are prepared with activities designed to meet their interests and budding competencies. These activities encompass: vocabulary-building, sensorial stimulations with sound, touch, smell, and sight, and practice with hand-eye coordination.
The toddlers' days are filled with love and encouragement. At group time the toddlers not only sing songs, but they also learn sign language while singing. Story time, art activities, cooking, and outside play are all part of the toddlers' day. The children participate in setting the tables for lunch along with learning to sweep and wipe spills. Social skills are emphasized daily, as is verbalizing their wants, needs, likes, and dislikes. Great attention is given to helping the children identify their feelings and express them appropriately.
Many modern neuroscientists have come to the same conclusion as Dr. Montessori– that it is in the first three years of life the brain absorbs more information than at any other time. We know that your toddler will greatly benefit from the loving, encouraging environment that is prepared just for their needs and absorbent mind.
​
​
Kinder Haus Child-to-Teacher Ratio– 6:1 State Licensing Ratio– 8:1
Preschool Class (Ages 2-4 years)
With the knowledge that the first three years of life are so important to brain development, the preschool classroom is designed to provide the children with sensorial development: visual discrimination of size, shape and colors; sound discrimination; language development; and intro mathematics. The classroom also has areas for art expression and daily living skills (pouring, spooning, cleaning). While there is much intellectual stimulation, our emphasis is always on nurturing each child's uniqueness. Sign language, singing, dancing, story-time, music and movement are all part of the preschoolers' days. Social skills continue to be developed, as is the ongoing acquisition of verbal skills.
Great emphasis is placed on recognizing, respecting, and appropriately expressing feelings. Practical life skills are refined as children learn grace and courtesy manners during lunch. Children learn to push their chairs back under the table, scrape their plates, and help clean the classroom. Socializing with friends makes up a great part of the children's days. Outside play time provides many opportunities for developing gross motor skills and for social interaction, too. We recognize the importance and privilege we have in loving and nurturing your precious children. Hugs, smiles, and love are a part of every child's day at Kinder Haus.
​
​
Kinder Haus Child-To-Teacher Ratio– 8:1 State Licensing Ratio– 12:1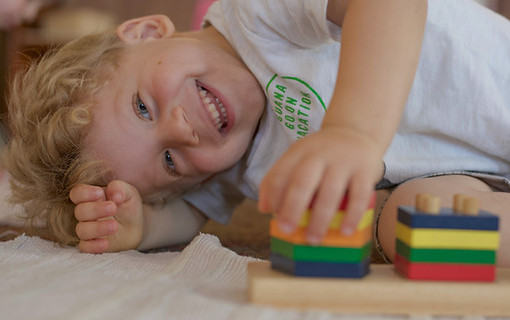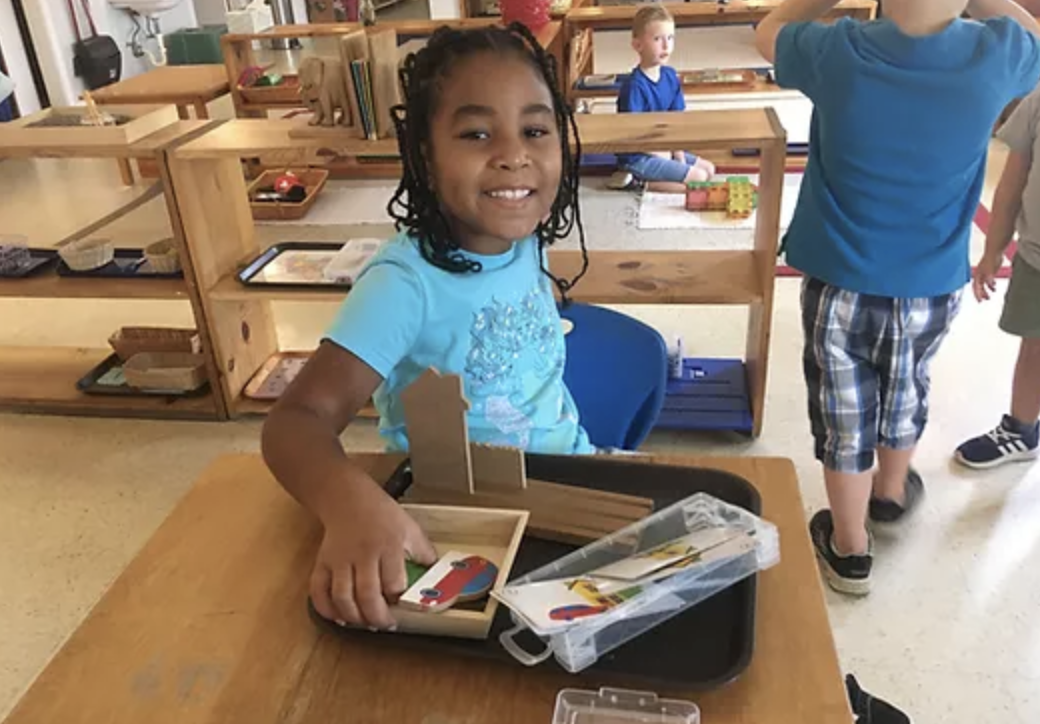 Pre-K/Kindergarten Class (Ages 3-6 years)
The Pre-K & Kindergarten class has a very welcoming and spacious outlay that makes for a conducive environment to explore and learn. With an abundance of windows illuminating the class and allowing natural sunlight to flow through, the nature vibes are in full-throttle. The Pre-K/Kindergarten class is a carefully prepared learning environment designed to meet the individual needs of each child, which give them the opportunity to reach their full potential.
​
The shelves in the classroom are lined with Montessori work lessons that are progressive, moving from simple to complex and concrete to abstract. Everything is designed around the developmental needs as well as the interests of the individual child, based on the observations of the Montessori teacher, trained to identify those needs as they occur. Math, Language, Sensorial Work, Practical Life, Science, Cultural Subjects, and the Arts are all part of this three-year program.
​
The Pre-K/Kindergarten class provides a mixed-ages setting. The young child has the opportunity to look to the older child for social and academic guidance. In return, the older child has the opportunity to develop a high level of self-esteem and most certainly a greater sense of responsibility. This provides the basis for a sense of community within the classroom. The development of the child–mentally, physically, socially, and emotionally is enhanced by the multi-age status of the classroom. With a great emphasis on the lessons of Grace and Courtesy, the child learns respect for himself, his peers, for his environment, and for the world in which he lives. Academically, socially, and emotionally, each year provides a unique opportunity for the child to advance so that by the end of his third year, he is ready to meet all the challenges of first grade in every way.
​
The Pre-K/K child is exposed to activities that employ freedom of movement, and freedom of choice (within limits). In the Montessori class, free choice means the child may choose work on which he has had a lesson; work that he uses properly and returns properly to the shelf when finished. The child is free to work alone and/or in groups with his peers. When given boundaries and guidelines, the child develops a sense of personal responsibility for making the right choice to properly care for his environment and his peers. He develops a sense of independence by learning–through Practical Life activities–how to wash, clean, and dry his area as necessary, sweep the floor, scrub the table and chairs, mop, bake, sew on a button, etc. He learns how to identify emotions and use his words with a peer when he is angry, hurt, or not understanding something. At the conclusion of this 3-year program, the child is well on his way to becoming a good citizen of the world, of reaching his full potential as a human being, and most importantly, to becoming a life-long learner.
​
​
​Our Child-To-Teacher Ratio– 12:1 State Licensing Ratio– 14:1
View our Virtual Tours here: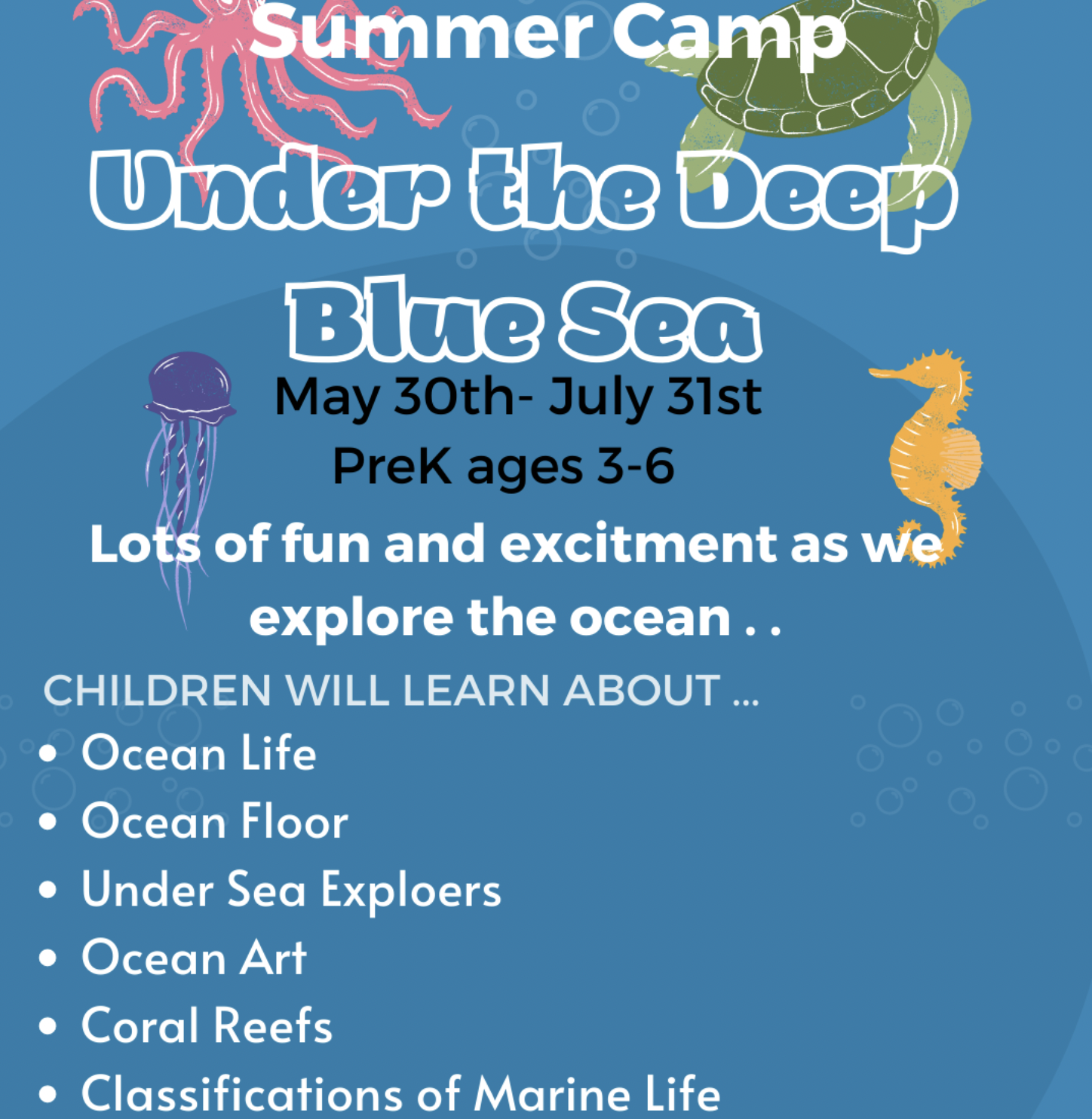 Summer Camp
Summers at Kinder Haus are filled with fun learning and delightful memories! We explore a different theme each year, where we combine fun, educational activities with plenty of outdoor time (weather permitting). Students enjoy art, cooking, sewing, drama, and science.